Realtex Construction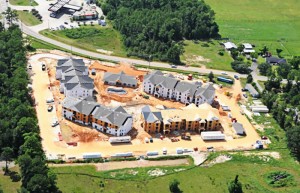 For over 10 years Realtex Construction, LLC has provided construction services for all properties developed by Realtex Development Corporation. Realtex Construction, LLC is led by Rick Deyoe, President and Harald Heer, Vice President of Construction, LLC.  Our dedicated Realtex team has successfully completed construction on 3,586 apartment units among 38 properties within 4 states.
Our belief in working sensitively with municipalities that want to retain a link to the past while building for the future has commanded our team to successfully completed developments and recurring business among various communities.  Based upon history, it is widely known that our completion schedules meet or exceed time forecasts, adhere to the necessary budget, and are of the highest quality construction.  Our success stems from integral personal attention to detail throughout every facet of the planning stage followed through to the final stage of completion.
As with Realtex Development Corporation, its parent company, Realtex Construction understands that it is superior performance coincided with an excellent reputation that instills confidence among members in our communities. Realtex Construction is proud to be able to offer their clients its valuable array of experience and a devoted team of professionals eager to attain the desired outcome of their developments. Allow our experience be the foundation for your future community developments.
Construction Team